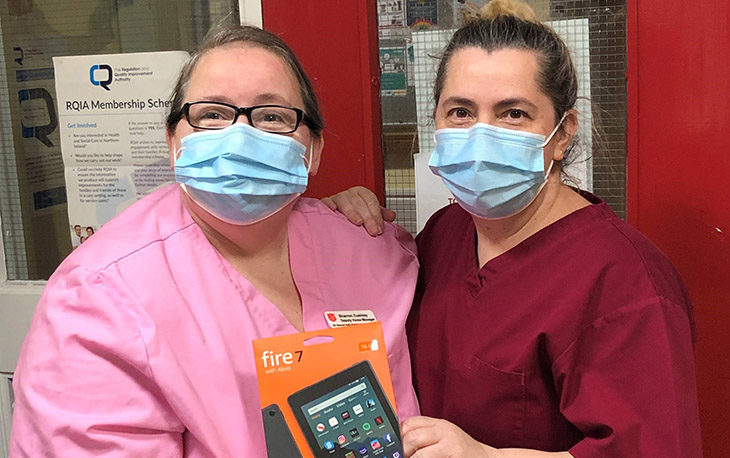 Funeral directors across Northern Ireland donated computer tablets to help care home residents and schoolchildren stay connected with their families and their learning during lockdown restrictions.
Funeral Partners ordered the Amazon Fire 7 tablets for each of the 17 funeral homes in Northern Ireland to donate to their local communities as they saw fit for Random Acts of Kindness Day.
Barbara Wilson, Senior Funeral Arranger at John Gray & Co Funeral Directors in Holywood, said: "So many people have suffered from not being able to see those closest to them, especially elderly individuals who may not be too familiar with the benefits of modern technology.
"Many of the Northern Irish branches therefore banded together to ensure care home residents across the country can enjoy video calling, instant messaging and more with loved ones."
John Gray & Co chose to gift its tablet to Sir Samuel Kelly Home, a care home run by the Salvation Army which the funeral directors regularly donates food and flowers boxes to.
Sharon Boyd, Manager at Sir Samuel Kelly Home, said: "The tablet John Gray & Co donated was a really kind and thoughtful gesture which has greatly enhanced the lives of many residents at the home."
James Brown & Sons Funeral Directors, Dundonald, regularly organises charitable initiatives for Aaron House, the residential care home, most recently including the production of its Christmas cards to help raise £135 in sales.
Funeral Arranger John McKibbin discovered the care home was in need of technology to support its residents so delivered the new tablet along with some flowers and biscuits on Random Acts of Kindness Day. He said: "Aaron House spoke with us about wanting to encourage their residents to link up with their families, so the tablet couldn't have arrived at a better time."
Isabel Harper, Manager at Aaron House, said: "We were delighted to receive the Kindle tablet which is of great benefit to our residents here in Aaron House, helping them to keep in touch with their loved ones and giving them the opportunity to enjoy music, watch videos, cartoons, etc.
"James Brown & Sons have been very good to Aaron House over many years, volunteering with gardening and assisting with events throughout each year. We are very grateful for their support."
Other funeral homes including James Brown & Sons on Newtownards Road and Lisburn Road distributed tablets to local schools and are already making plans for Random Acts of Kindness Day 2022.