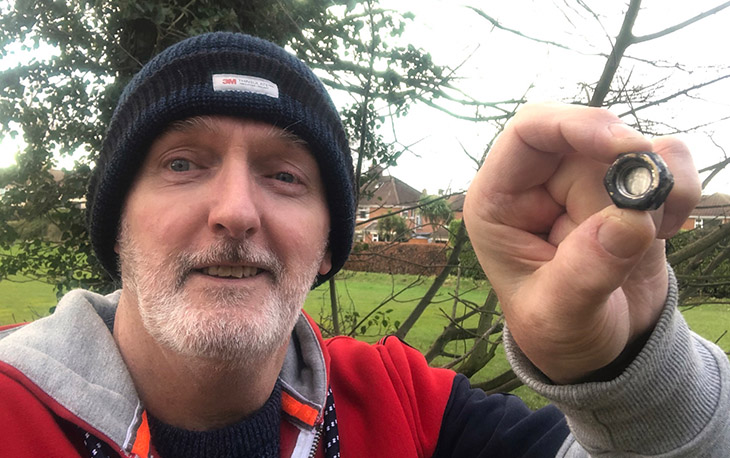 Adventurous Funeral Director Mike Smith of John Gray & Co Funeral Directors, which has branches in Bangor and Holywood, Northern Ireland, has uncovered over 60 hidden caches across County Down to help him stay in a strong frame of mind to support families.
Mike tracks the caches through Geocaching, a phone app that lets users hide trinkets, messages and more for people across the world to discover via GPS.
He said: "As funeral directors, we're taught to look after ourselves and be able to break away from day-to-day pressures so we can be in a strong frame of mind to help families, which has proven challenging during the Covid-19 outbreak.
"Geocaching has been a fantastic way to achieve a sense of adventure and escapism, which is hard to do during lockdown restrictions."
Mike was introduced to Geocaching by his niece, who runs a busy cattery in Scotland and had difficulty winding down at home during the pandemic.
He was inspired by the beautiful vistas she discovered and posted to Facebook during her Geocaching trips so downloaded the app in October to explore County Down.
He said: "I initially got into Geocaching to give me more reason to go outside for exercise, and was surprised at how rewarding it is to uncover the variety of caches and log them into my profile on the app.
"Some caches contain trackables, which are small physical game pieces that can be moved from geocache to geocache. Most trackables want to travel and have an eventual goal. For many caches, the idea is to take out a small trinket or toy and leave something of similar value in return. One of the most interesting caches I have found to date was shaped like a pinecone."
The Geocaching store offers a range of creative tools for users to find or hide treasure with, including GPS devices and caches shaped like animals.
Mike hopes to find many more caches in the coming months, even beyond lockdown, and has considered hiding some of his own for fellow adventurers to discover.
He said: "I've now got a good idea of where caches can be placed in County Down to make it challenging yet rewarding, so keep your eyes peeled."